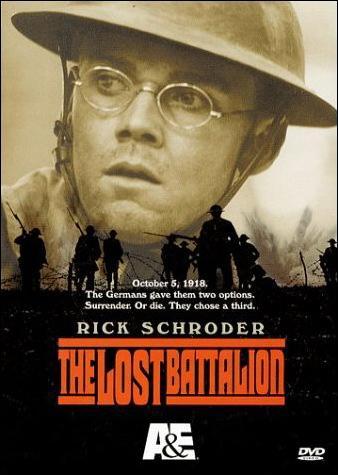 The Lost Batallion (2001) Russell Mulcahy
DIRECTOR: Russell Mulcahy | SCREENWRITER: James Carabatsos | COMPOSER: Richard Marvin | CINEMATOGRAPHER: Jonathan Freeman | CAST: Ricky Schroder, Phil McKee, Jamie Harris, Jay Rodan, Adam James | STUDIO/PRODUCER: A&E Television Networks | GENRE: War, Action | World War I | FORMAT: DvdRip, Color, NTSC, MKV | Language: English, with Spanish subtitles included in rar files (sub/idx) | Country: USA
IMDB
Synopsis
: In 1918 in World War I, in the Meuse-Argonne Sector in France, the former New York lawyer and Major Charles White Whittlesey is assigned by Gen. Robert Alexander to a massive suicidal attack against the German forces in the Argonne Forest with his five hundred men battalion. However, the forces supposed to be giving support through the flanks retreat and the communications with the headquarter of the 77th American Division are cut. Major Wittlesey holds his position with his men, mostly Irish, Polish, Italian and Jew gangsters from New York, surrounded by the German army. Without food, water, ammunition and medical supplies, only two hundred men survive after five days of siege.
Sinopsis
: La Primera Guerra Mundial ha acabado, y las tropas americanas penetran en el territorio francés, ocupado por los alemanes. Los aliados franceses e ingleses presionan para abatir lo que queda del ejército alemán en Francia. El batallón perdido es la verdadera historia de un grupo de 800 soldados americanos de la 77ª División Americana, a quienes se les ordenó avanzar en el bosque de Argonne y aguantar su posición contra los alemanes a cualquier precio... Las acciones bélicas, sin llegar a componer un reportaje sobre el destrozo humano en vida consigue ser cruento y real y las acciones armonizan con la realidad cumpliendo con el argumento coherente de la historia. Sin llegar a brillar por ninguna característica concreta, el argumento, la dirección y el movimiento de las escenas acaban contando una historia creíble que, sin ser nada del otro mundo, cumple perfectamente su objetivo. Una buena película bélica para ver.
Files split & compressed with WinRar, no password.
Fileserve:
http://www.fileserve.com/list/KStmsYC
Megaupload:
http://www.megaupload.com/?f=BJ1C358I