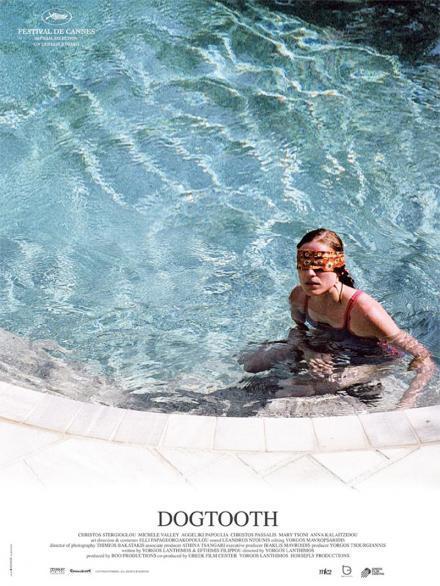 Kynodontas [Dogtooth] (2009) Giorgos Lanthimos
DIRECTOR: Giorgos Lanthimos | SCREENWRITER: Efthymis Filippou, Giorgos Lanthimos | CAST: Christos Stergioglou, Michelle Valley, Aggeliki Papoulia, Mary Tsoni, Christos Passalis CAST: Christos Stergioglou, Michelle Valley, Aggeliki Papoulia, Mary Tsoni, Hristos Passalis, Anna Kalaitzidou | CINEMATOGRAPHER: Thimios Bakatatakis | STUDIO/PRODUCER: Boo Productions / Greek Film Center / Horsefly Productions | AWARDS: 2009: Cannes: Award "Un certain regard" | GENRE: Drama, Comedy, Drama, Foreign | RUNTIME: 94 min | FORMAT: DvdRip, Color, AVI, NTSC | LANGUAGE: Greek, with English, Spanish, Italian & French subtitles included in rar files (srts) | COUNTRY: Greece
This film has been chosen by Greece to represent the country in the upcoming 84th Oscar Awards in the Best Foreign Film category.
IMDB
Synopsis
: Behind the high walls of their family home, three siblings are convinced by their parents that the outside world is filled with death and danger. They spend their days in splendid isolation in a near-alternative universe where reality is kept at arm's length by their father's conniving machinations. That is, until he introduces co-worker Christina (Anna Kalaitzidou) into the disquieting mix.
Sinopsis
: Un padre, la madre y sus tres hijos viven en una mansión a las afueras de una ciudad. Hay un cercado muy alto que rodea la casa, y los chicos nunca han salido de ella. Están siendo educados, entretenidos, aburridos y ejercitados con los métodos que sus padres juzgan apropiados, sin ninguna influencia del mundo exterior. Creen que los aviones que pasan volando son juguetes, o que el mar es un tipo de silla forrada de cuero. La única persona a la que se le permite entrar en la casa es Christine, que trabaja como guardia de seguridad en la fábrica del padre. Éste le hace visitar la casa para saciar las necesidades sexuales del hijo.
Files split & compressed withWinRar, no password.
Fileserve:
http://www.fileserve.com/list/2Et9NBV
Megaupload:
http://www.megaupload.com/?f=LAPF7QUQ