DVD Rip / 640x480 / 700 MB / 1hr16
Director: Zdravko Šotra
Writer: Ljubomir Simović
Cast: Miloš Žutić, Žarko Laušević, Ljuba Tadić, Vojislav Brajović, Gorica Popović, Branislav Lečić
Release date: 21.6. 1989.
In
Serbo-croatian
/ English srt
Genre: Drama / History / War
Country: Yugoslavia
''The Battle of Kosovo'' is a 1989 film based on the drama written by poet Ljubomir Simović. Although it depicts the historical Battle of Kosovo between Medieval Serbia and the Ottoman Empire which took place on June 15, 1389 in a field about 5 kilometers northwest of Priština, the movie depicts this historical event with varying degrees of accuracy.
However, the battle ended in a bloodshed draw, but Ottoman Empire eventually won because of larger army, which resulted in a 500-year dominance of Turks in the West Balkans. The Kosovo battle presents core of Serbian society and their culture, symbolizing freedom and resistance to be conquered. Even nowadays, battle for this part of land continues - this time with Albanians, USA and most of the EU.
Code
http://www.imdb.com/title/tt0096966/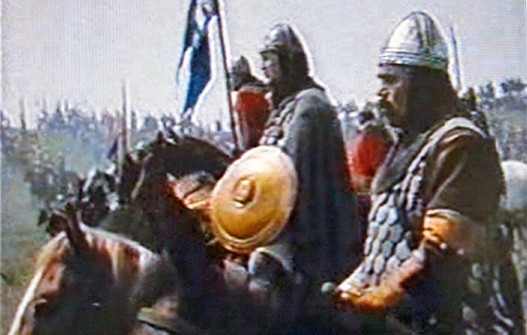 links from the forum (
iwasateenagewerewolf)
Code
http://rapidshare.com/files/374059103/Boj.na.Kosovu.DvDRip.XviD.part1.rar
http://rapidshare.com/files/374059314/Boj.na.Kosovu.DvDRip.XviD.part2.rar
http://rapidshare.com/files/374059373/Boj.na.Kosovu.DvDRip.XviD.part3.rar
http://rapidshare.com/files/374059095/Boj.na.Kosovu.DvDRip.XviD.part4.rar
http://rapidshare.com/files/374059108/Boj.na.Kosovu.DvDRip.XviD.part5.rar
http://rapidshare.com/files/374059043/Boj.na.Kosovu.DvDRip.XviD.part6.rar
http://rapidshare.com/files/374059093/Boj.na.Kosovu.DvDRip.XviD.part7.rar
http://rapidshare.com/files/374059041/Boj.na.Kosovu.DvDRip.XviD.part8.rar
English subs:
http://rs.titlovi.com/prevodi/boj-na-kosovu-aka-the-battle-of-kosovo-48573/
no password