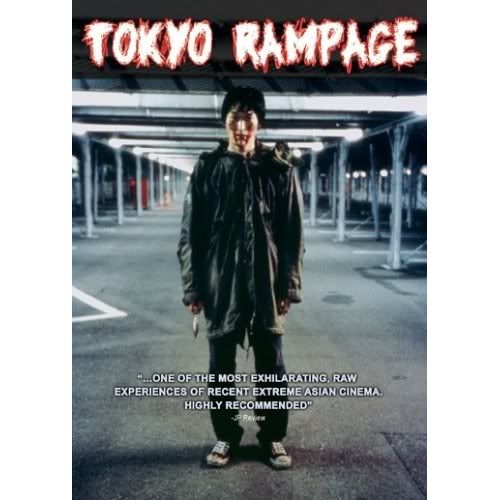 Tokyo Rampage (aka Pornostar, Poruno Suta and Tokyo Psycho) is a tale of rampant nihilism centering on a sociopath anti-hero, at war with the world around him. This time around the subject is a maladjusted youth, Arano (Koji Chihara), who takes it upon himself to rid society of its unnecessary element, namely Yakuza. To this he offers no real reasoning beyond the occasional utterance of "not needed," but when the opportunity arises, he makes Charles Bronson look a sissy. When not killing thugs, our protagonist sets about lighting matches, learning to skateboard, palling around with a small street-gang, and dabbling in a possible drug trade with a cute young hostess girl whose eye he happened to catch. Sort of A Bande Apart meets Death Wish, or a Taxi Driver for contemporary Japan.
Starring: Koji Chihara, Onimaru.
Runtime: 97 min.
Language: Japanese
Subs: English, hard-coded
Country: Japan
Format: .avi
Size: 892 MB
Width: 720 pixels
Height: 480 pixels
IMDB:
Code
http://rapidshare.com/files/422545654/ShibuyaRampage98.part01.rar
http://rapidshare.com/files/422545720/ShibuyaRampage98.part02.rar
http://rapidshare.com/files/422545796/ShibuyaRampage98.part03.rar
http://rapidshare.com/files/422576933/ShibuyaRampage98.part04.rar
http://rapidshare.com/files/422577256/ShibuyaRampage98.part05.rar
http://rapidshare.com/files/422577573/ShibuyaRampage98.part06.rar
http://rapidshare.com/files/422577806/ShibuyaRampage98.part07.rar
http://rapidshare.com/files/422577987/ShibuyaRampage98.part08.rar
http://rapidshare.com/files/422598002/ShibuyaRampage98.part09.rar
Files split with Winrar.
After watching Nine Souls, revisiting Pornostar is akin to watching Scorsese's Mean Streets after Goodfellas. While there is undoubtedly an incredible growth in Toyoda's maturity as a director since his debut film, it doesn't stop Pornostar from being quite frankly one of the most exhilarating, raw experiences of recent extreme Asian cinema.
With its nihilistic protagonist staggering and hacking his way through nefarious characters supported by a jaw-droppingly cool soundtrack this care-free character influences the care-free approach to the narrative structure of the film as we join a man in a free-fall from society and responsibility; with the end of his journey ultimately leading towards self-destruction his main thrust for survival comes from his desire to take out as much of what he hates about the world with him.
In this case, the Yakuza.
Central to the film's success, aside from the assured direction and indelible style of Toyoda, is the performance by Koji Chihara as Arano (seen later as part of an ensemble cast in Toyoda's masterpiece Nine Souls), here he somehow imbues this soulless outcast of very little dialogue with a degree of charisma, not in the way of an OTT performance but in the subtleties of mannerisms and physical gestures. Never over-selling, just keeping the levels of interest high enough, he engages the audience, commanding the screen despite his disinterested presence. His motives are both simple and complex depending on how you wish to read his character - his hatred of useless people (in general? Or more specific - after all it is just the Yakuza who fall foul to his hatred), it's just a shame that the other character of considerable stature (Onimaru's young Yakuza underling Kamijo) is given such a simple background story, as it betrays the film somewhat by appealing all to easily to its audience. Aside from the inclusion of the two worst English speaking actors I've seen (and I'm even making comparisons to the bellhop in "Brother") it's the only mis-step of the film that incorporates a fiercely realistic stabbing sequence that will leave you breathless, one of the coolest assassins of late, and the most bizarre drug taking scene I've ever seen.
The feel of Pornostar as aforementioned, is particularly rough - the violence is portrayed realistically in a cinema verite style that reminded me a lot of the upfront brutality of Nicolas Windn Refn's "Pusher". Yet, Toyoda combines with this rough-edged visual approach moments of surreal beauty that compliments the realism of earlier scenes while also offering a window into the protagonist's inner-workings. One such scene where Arano imagines a sudden rainfall as a hail of falling knives is both a stroke of genius as well as a terrifying insight into the fractured mind of our psychopathic tour guide. It's moments like these that work to thrust Pornostar up above the generic Yakuza/Vigilante films and make it something of great value.
Pornostar bristles with the energy of a young director hungry for success; it's a blistering debut that makes me feel like re-visiting his other works, a truly excellent film that signposted Toyoda as a director to watch. And with Blue Spring and Nine Souls currently available he is now a director to follow.
Highly recommended.
: ~ g.h.evans, HK Flix
Toyoda's Blue Spring and 9 Souls are both available on this board.