Genre:
Drama | Thriller
Director:
Konrad Niewolski
Country:
Poland
Language:
Polish
Subtitles:
English (.srt file)
Aspect Ratio:
Widescreen 1.85:1
Length:
97mn
File:
Dvdrip Xvid Avi - 624x352 - 29fps - 698mb
Description
A young man is accused of assault and arrested. He swears that he is innocent, but the fact that an old woman is the one he supposedly beat doesn't make him look good in a anyones eyes. Thus he winds up in jail and is given advice to ask to be jailed with a particular group of prisoners, the career criminals. Frightened to death, ridiculed, and generally looked down upon at first we see the young man change according to the prison's unwritten rules.
This makes for an interesting look at not just prison life, but life in general. There are rules on both sides of the prison walls, and we simply must choose to follow or not to follow them and then face the consequences. For example the prison cell has no door on the bathroom compartment so when going to the bathroom one must announce it to the others and for the time being no one is aloud to eat. A strange rule, but followed with discipline and one is punishable if he breaks it. As the young man learns the ins and outs of prison life he gains respect inside and notoriety on the outside and then we see just what this 'symmetry' in life is and what results, for better or worse on both sides of the prison wall, it can yield.
IMDB
http://www.imdb.com/title/tt0381637/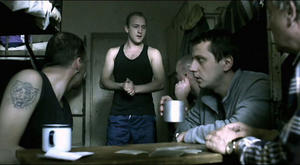 Hotfile Links

Symetria Dvdrip
http://hotfile.com/dl/56971289/ee3768a/Sym03.part1.rar.html
http://hotfile.com/dl/56971508/8ad3347/Sym03.part2.rar.html
http://hotfile.com/dl/56971843/0dfe462/Sym03.part3.rar.html
http://hotfile.com/dl/56971926/bf0cdb7/Sym03.part4.rar.html