Genre:
Documentary
Director:
Ulrich Seidl
Country:
Austria
Language:
German
Subtitles:
English (Hardcoded)
Aspect Ratio:
Widescreen 1.85:1
Length:
88mn
File:
Dvdrip Xvid Avi - 624x352 - 29fps - 692mb
Description
Six Catholics share their thoughts and problems with Jesus in different churches. The camera accompanies them.
Great, uncompromising semi-documentary about six people who tell Jesus any given detail that is on their mind. They practice in such detailed manner that not seldomly you won't manage to keep serious. For instance Elfriede who while cleaning the church's floor and dusting the crucifixes starts her whining soliloquy about her Muslim husband's behavior after sickness, his TV habits which appear to have taken influence on their relationship. She would have been the perfect Fassbinder victim. Elfriede is the toughest pill to swallow because of a self righteousness. Or another, elderly woman whose husband's adultery drives her mad and tries to discuss revenge with Him by making phone calls with an alternate voice. You literally see the victory in her eyes when her ridiculous plan, obviously granted by the Lord, seems to be fulfilled. The entire movie is completely static (such as Dog Days) which makes it so believable. You really would like to help the youngest of the six witnesses to manage his catholic identity crisis as he feels so helplessly lost and laughed at by his family who rather want him to clean up his room than go to praise the Lord.
IMDB
http://www.imdb.com/title/tt0373941/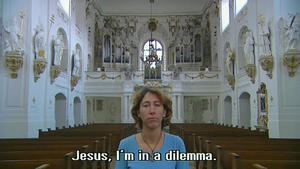 Hotfile Links

Jesus, You Know Dvdrip
http://hotfile.com/dl/56965584/a54568b/JesYouKno03.part1.rar.html
http://hotfile.com/dl/56965829/dd82d7f/JesYouKno03.part2.rar.html
http://hotfile.com/dl/56966070/a5feb6e/JesYouKno03.part3.rar.html
http://hotfile.com/dl/56966188/4041229/JesYouKno03.part4.rar.html