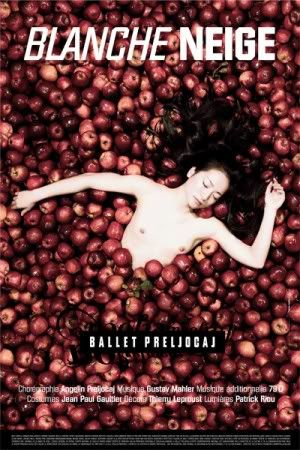 http://www.imdb.com/title/tt1565000/
Country: West Germany
Twitchfilm review by Teresa Nieman:
"As someone who knows next to nothing about ballet, I must confess I chose to see Angelin Preljocaj's Snow White only because of its the striking promotional image--the appropriately pale heroine lying nude in a sea of blood-red apples--and the fact that it seemed to be the most promising film playing in its time slot. VIFF also held the international premiere of the movie, which is essentially a filmed version of the same show which played on stage in Europe (and it's being repeated this month at the VanCity Theatre, now that the festival is over).
Preljocaj's vision here is clearly to immortalize his ballet, and perhaps find a larger audience for it; making it feel like a film doesn't seem to have been a high priority. The audience is of course eliminated, and there are cuts and close-ups that remind us we aren't seeing the dance live--something that alternately both adds to and detracts from the experience. The spectacle and awe of watching people dance out painstakingly methodical routines and seemingly never growing fatigued, and the anticipation between set changes is gone in the film version. However, the ability for close-ups and editing reveals an unexpected intimacy to be found between viewer and performer. Thanks to this added closeness, the more dramatic scenes are given an extra punch that they sorely need to transcend what can sometimes be a rather silly reworking.
And no, I'm not calling the film silly simply because it's a ballet and has people running around in tights--I'm not that narrow-minded. Suffice it to say, though, that Jean Paul Gaultier designed the costumes, and the film's final result is something like his clothes: beautiful and exciting, but somewhat campy and over-the-top. The show's lead, Nagisa Shirai, is captivating and luminous (despite the high-quality of the film revealing large bruises on her otherwise milky white thighs, a marker of her dedication I suppose), while her prince Sergio Diaz makes the best of his awkward matador-style outfit. The evil witch/stepmother looks like an avant-garde dominatrix and has two "pet cats" in the forms of dancers wearing full-body leotards... which is to say, she's commanding and sexy, but nearly upstaged by her Lady Gaga-esque clothing and set pieces. Don't even get me started on the dwarfs, who are actually tall, handsome rock-climbers who must have stepped out of an American Eagle display window.
Despite its awkward glam indulgence, Snow White still mostly pulls it off thanks to its leading lady and some gorgeous moments--the prince dancing with his lover's limp, ostensibly dead body and miraculously making her swirl, dip and fly along with him was my favorite--that stick to romance and emotion rather than delving into haute couture cheese. It's hard to strike a balance between two such extremes, and the movie would have benefited from choosing one or the other and committing to it in full. As it stands, I can recommend it as an admirable curiosity of a film and not much more."
http://www.filesonic.com/file/26476691/Angelin_Preljocaj_-_Blanche-Neige.part01.rar
http://www.filesonic.com/file/26476939/Angelin_Preljocaj_-_Blanche-Neige.part02.rar
http://www.filesonic.com/file/26477631/Angelin_Preljocaj_-_Blanche-Neige.part03.rar
http://www.filesonic.com/file/26477953/Angelin_Preljocaj_-_Blanche-Neige.part04.rar
http://www.filesonic.com/file/26478613/Angelin_Preljocaj_-_Blanche-Neige.part05.rar
http://www.filesonic.com/file/26478703/Angelin_Preljocaj_-_Blanche-Neige.part06.rar
http://www.filesonic.com/file/26479153/Angelin_Preljocaj_-_Blanche-Neige.part07.rar
http://www.filesonic.com/file/26479309/Angelin_Preljocaj_-_Blanche-Neige.part08.rar
http://www.filesonic.com/file/26471247/Angelin_Preljocaj_-_Blanche-Neige.part09.rar
http://www.filesonic.com/file/26479593/Angelin_Preljocaj_-_Blanche-Neige.part10.rar
http://www.filesonic.com/file/26477123/Angelin_Preljocaj_-_Blanche-Neige.part11.rar
http://www.filesonic.com/file/26469043/Angelin_Preljocaj_-_Blanche-Neige.part12.rar
http://www.filesonic.com/file/26477119/Angelin_Preljocaj_-_Blanche-Neige.part13.rar
http://www.filesonic.com/file/26476971/Angelin_Preljocaj_-_Blanche-Neige.part14.rar
http://www.filesonic.com/file/26860659/Angelin_Preljocaj_-_Blanche-Neige.part15.rar
No Password
HD TVrip
Video: XVID 1920x1080 25.00fps
Audio: MPEG Audio Layer 3 44100Hz stereo 122Kbps
Mirror
http://www.fileserve.com/file/TkUK7Zb
http://www.fileserve.com/file/bTp4Qzk
http://www.fileserve.com/file/8xdnnUz
http://www.fileserve.com/file/dedfvEF
http://www.fileserve.com/file/6sCna2M
http://www.fileserve.com/file/RF4Np9T
http://www.fileserve.com/file/kUEzQtX
http://www.fileserve.com/file/sWWzNE2
http://www.fileserve.com/file/BfyAjgn
http://www.fileserve.com/file/5QEBJqx
http://www.fileserve.com/file/MZgwx3H
http://www.fileserve.com/file/vnJrqM2
http://www.fileserve.com/file/emXArfw
http://www.fileserve.com/file/tzGPWDZ
http://www.fileserve.com/file/5VgZ7CQ