Tinimbang ka ngunit kulang (Weighed But Found Wanting) (1974)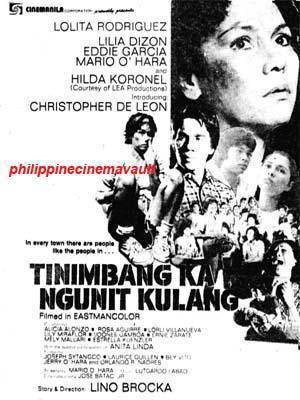 Director: Lino Brocka
Writers: Lino Brocka and Mario O'Hara
Awards: 6 wins & 2 nominations
Codec: MPEG-4 Video (XVID) | 352x272 | Codec: MPEG Audio layer 1/2/3 (mpga) | Color: Color | Size: 700 MB | Runtime: 126 min | Country: Philippines | Language: Tagalog | Subtitel: Hardcoded Eng | Genre: Drama
Cast:
Lolita Rodriguez ... Kuala
Lilia Dizon... Mrs. Carolina Blanco
Eddie Garcia... Mr. Cesar Blanco
Mario O'Hara... Bertong Ketong
Hilda Koronel... Evangeline Ortega
Christopher De Leon... Junior
Alicia Alonzo
Joseph Sytangco... Nitoy
Rosa Aguirre
Lorli Villanueva... Mrs. Sy
Lily Miraflor
Joonee Gamboa... Eddie's father
Ernie Zarate... Dr. Ambrosio Ortega
Mely Mallari
Estrella Kuenzler
Acclaimed director Lino Brocka and screenwriter Mario O'hara tell a powerful story about small town injustice. Junior (Christopher de Leon) is a privileged young man living in a small, devoutly Catholic provincial town. His father is a womanizer, his mother a materialistic shrew. His friends spend their days tormenting the village idiot, Kuala (Lolita Rodriguez), and the upstanding women of the town shun local leper Berto (Mario O'hara) as they go about their charitable work.
Increasingly alienated and disgusted by the hypocrisy of the townfolks, Junior finds himself identifying more and more with Berto and Kuala. He tries to make things for these marginalized characters but his attempts are met with futility at every turn and inevitably, tragedy strikes.
This landmark film is considered by many to be one of the most important in Philippine cinema. It is a scathing social commentary on humanity at its most shameful and on the consequences of turning a blind eye on the more difficult realities of life around us. It garnered six FAMAS awards including Best Picture, Best Director, Best Actor (Christopher) and Best Actress (Lolita).
IMDb:
http://www.imdb.com/title/tt0072295/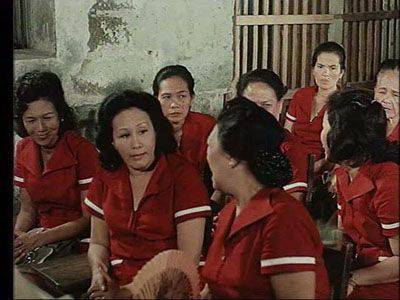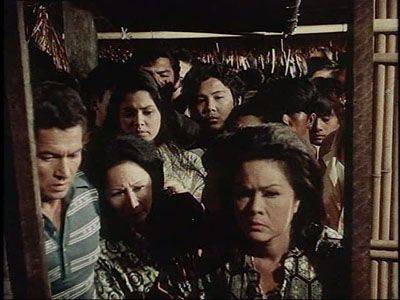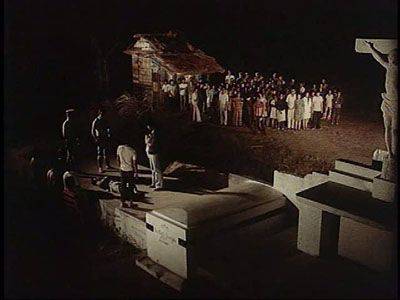 Code
http://www.rapidshare.com/files/418462627/Tinimbang.Ka.Ngunit.Kulang.1974.part1.rar
http://www.rapidshare.com/files/418462660/Tinimbang.Ka.Ngunit.Kulang.1974.part2.rar
http://www.rapidshare.com/files/418462998/Tinimbang.Ka.Ngunit.Kulang.1974.part3.rar
http://www.rapidshare.com/files/418472844/Tinimbang.Ka.Ngunit.Kulang.1974.part4.rar
http://www.rapidshare.com/files/418474496/Tinimbang.Ka.Ngunit.Kulang.1974.part5.rar
http://www.rapidshare.com/files/418475619/Tinimbang.Ka.Ngunit.Kulang.1974.part6.rar
http://www.rapidshare.com/files/418478201/Tinimbang.Ka.Ngunit.Kulang.1974.part7.rar
http://www.rapidshare.com/files/418479550/Tinimbang.Ka.Ngunit.Kulang.1974.part8.rar
Code
http://www.megaupload.com/?d=QZ5TEECY
http://www.megaupload.com/?d=1Z4R5ALN
http://www.megaupload.com/?d=471X5RW2
http://www.megaupload.com/?d=EEB1F7H5
http://www.megaupload.com/?d=ZWTIOOCP
http://www.megaupload.com/?d=KY5D7BCM
http://www.megaupload.com/?d=P1VNKNF2
http://www.megaupload.com/?d=IP70YE7O
No Pass