Moulin Rouge! (2001)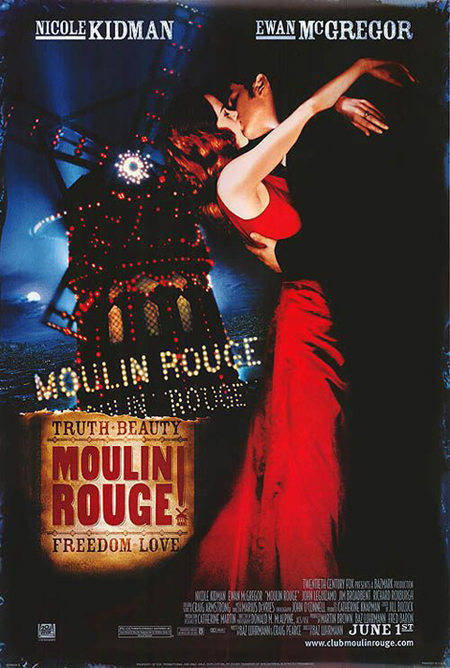 Director: Baz Luhrmann
Writers: Baz Luhrmann and Craig Pearce
MPEG-4 AVC | 720x432 | Sound: MPEG AAC Audio (mp4a) | Color: Color | Size: 699 MB | Runtime: 123 min l Country: USA | Australia | Language:
English
| Subtitels: None | Genre: Drama | Musical | Romance
Cast:
Nicole Kidman ... Satine
Ewan McGregor... Christian
John Leguizamo... Toulouse-Lautrec
Jim Broadbent... Harold Zidler
Richard Roxburgh... The Duke
Garry McDonald... The Doctor
Jacek Koman... The Unconscious Argentinean
Matthew Whittet... Satie
Kerry Walker... Marie
Caroline O'Connor... Nini Legs In The Air
Christine Anu... Arabia
Natalie Jackson Mendoza... China Doll (as Natalie Mendoza)
Lara Mulcahy... Môme Fromage
David Wenham... Audrey
Kylie Minogue... The Green Fairy
It's Paris in 1899. Christian, a young English poet, comes to Paris to pursue a penniless career as a writer. However, he soon meets a group of Bohemians who tell him that he should write a musical show for them to be performed at the Moulin Rouge, the most famous underworld night club in Paris. The night they arrive at the Moulin Rouge, Christian meets Satine, the club's star and a beautiful courtesan. He falls head-over-heels in love with her and though it takes a bit of convincing, she falls for him as well. Meanwhile, the club's owner, Harold Zidler, invests in a wealthy Duke to help pay for the club, however, the Duke will only pay if Satine is his. This crazy love triangle twists and turns. And little does Satine know that she has a deadly secret that could end everything.
IMDb:
Code
http://www.imdb.com/title/tt0203009/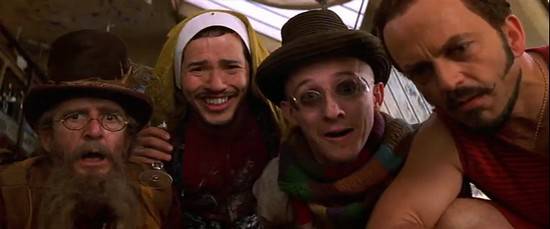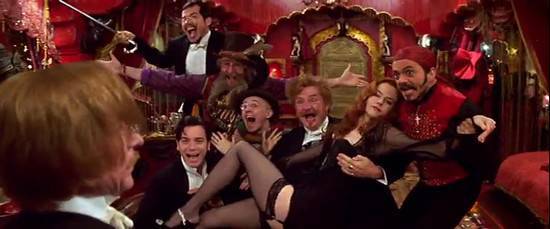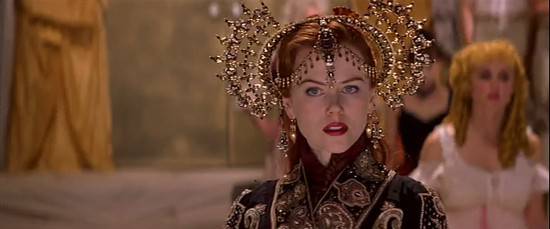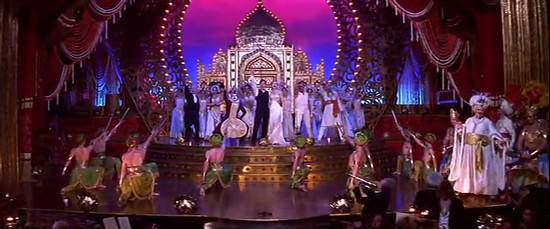 Code
http://www.rapidshare.com/files/417627370/Moulin.Rouge.part1.rar
http://www.rapidshare.com/files/417627108/Moulin.Rouge.part2.rar
http://www.rapidshare.com/files/417632121/Moulin.Rouge.part3.rar
http://www.rapidshare.com/files/417632503/Moulin.Rouge.part4.rar
http://www.rapidshare.com/files/417636499/Moulin.Rouge.part5.rar
http://www.rapidshare.com/files/417637839/Moulin.Rouge.part6.rar
http://www.rapidshare.com/files/417641335/Moulin.Rouge.part7.rar
http://www.rapidshare.com/files/417642429/Moulin.Rouge.part8.rar
Code
http://www.megaupload.com/?d=CB2EMGWO
http://www.megaupload.com/?d=LK7R6AYP
http://www.megaupload.com/?d=075WH722
http://www.megaupload.com/?d=L49K1HFK
http://www.megaupload.com/?d=T9BETCPI
http://www.megaupload.com/?d=9X38L7C7
http://www.megaupload.com/?d=UPECB2F1
http://www.megaupload.com/?d=Z1C3GS4P

No Pass (Links from Atone forum member)