Genre:
Mondo
Director:
Michael O'Donoghue
Country:
USA
Language:
English
Subtitles:
none
Aspect Ratio:
1.33:1
Length:
71mn
File:
Dvdrip Xvid Avi - 640x480 - 23fps - 799mb
Starring:
Michael O'Donoghue ... Mr. Mike
Dan Aykroyd ... Jack Lord priest / Himself
Carrie Fisher ... Herself
Deborah Harry ... Herself
Margot Kidder ... Herself
Bill Murray ... Man on the street
Klaus Nomi ... Opera Singer
Sid Vicious ... Himself
Linda Blair ... Herself (uncredited)
Description
Mike O'Donoghue's parody of "Mondo Cane" showcases curious performers, strange musicians, celebrity mutations and unusual short films, including Thomas Alva Edison's "Elephant Electrocution".
The title of my summary pretty much says it all. The movie is hilarious, but there are less "belly" laughs than there are "Where the hell did that come from?" laughs. As National Lampoon fans know, Michael O'Donoghue was an "evil genius" of comedy. His philosophy was that there's no such thing as "too far", and that rings clearly in this film. The movie was banned from TV by the FCC, for obvious reasons. I highly recommend this movie to lovers of dark, surreal comedy, or the underground movement. Chances are that if you have a short attention span, or stay with the mainstream, it's not for you. Praise Jack Lord!
IMDB
http://www.imdb.com/title/tt0079583/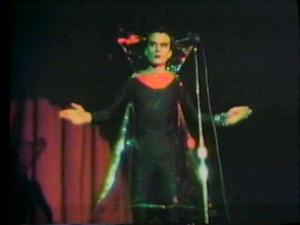 Hotfile Links

Mr. Mike's Mondo Video Dvdrip
http://hotfile.com/dl/59996270/750dddb/MrMikeMondVideo79.part1.rar.html
http://hotfile.com/dl/59996960/5be3c85/MrMikeMondVideo79.part2.rar.html
http://hotfile.com/dl/60006434/4da1910/MrMikeMondVideo79.part3.rar.html
http://hotfile.com/dl/60007116/d4d0e0e/MrMikeMondVideo79.part4.rar.html