Femme Fatale (2002)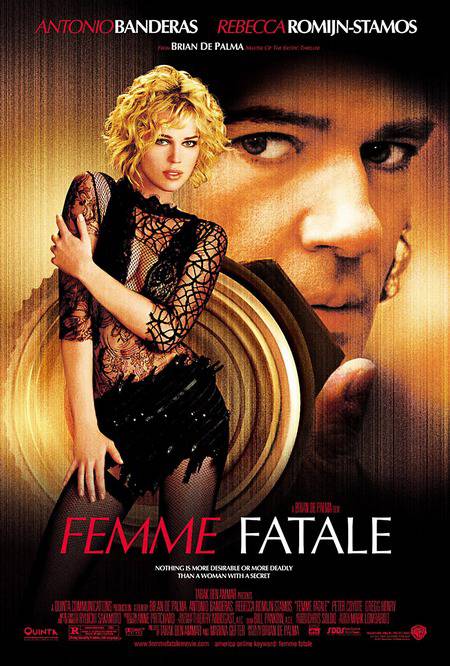 Director and Writer: Brian De Palma
DVDRip AVI | 576x304 | MP3 | Color: Color | Country: France | Language:
English | French | Spanish
| Subtitel: English | 697 MB | 110 min l Genre: Crime | Thriller
Cast:
Rebecca Romijn... Laure / Lily (as Rebecca Romijn-Stamos)
Antonio Banderas... Nicolas Bardo
Peter Coyote... Watts
Eriq Ebouaney... Black Tie
Edouard Montoute... Racine
Rie Rasmussen... Veronica
Thierry Frémont... Serra (as Thierry Fremont)
Gregg Henry... Shiff
Fiona Curzon... Stanfield Phillips
Daniel Milgram... Pierre / Bartender
Jean-Marc Minéo... Seated Guard (as Jean-Marc Mineo)
Jean Chatel... Cannes Commentator
Stéphane Petit... Bodyguard One (as Stephane Petit)
Olivier Follet... Bodyguard Two
Eva Darlan... Irma
The thief Laurie Ash steals the expensive diamond jewel called 'Eye of the Serpent' in an audacious heist during an exhibition in Cannes 2001 Festival. She double-crosses her partners and is mistakenly taken as Lily, a woman who lost her husband and son in an accident and is missing since then, by an ordinary family. One day, while having bath in Lily's bathtub, Lily comes back home and commits suicide. Laurie assumes definitely Lily's identity, goes to America where she marries a rich man, who becomes the Ambassador of USA in France. When Laurie returns to France, her past haunts her.
IMDb
Code
http://www.imdb.com/title/tt0280665/



Code

http://www.rapidshare.com/files/413826418/FM.FAT.DRp04s.2002.part1.rar
http://www.rapidshare.com/files/413826215/FM.FAT.DRp04s.2002.part2.rar
http://www.rapidshare.com/files/413835665/FM.FAT.DRp04s.2002.part3.rar
http://www.rapidshare.com/files/413835848/FM.FAT.DRp04s.2002.part4.rar

Pass: buats



Subtitel English:


Code

http://www.rapidshare.com/files/413845021/FM.FAT.DRp04s.2002sub.rar