Genre:
Mockumentary
Director:
Kevin Willmott
Country:
USA
Language:
English
Subtitles:
English (.srt file)
Aspect Ratio:
1.33:1
Length:
89mn
File:
Dvdrip Xvid Avi - 624x468 - 23fps - 576mb
Description
Set in an contemporary alternative world where the Confederate States of America managed to win the American Civil War, a British film documentary examines the history of this nation. Beginning with its conquest of the northern states, the film covers the history of this state where racial enslavement became triumphant and the nation carried sinister designs of conquest. Interspersed throughout are various TV commercials of products of a virulent racist nature as well as public service announcements promoting this tyranny. Only at the end do you learn that there is less wholly imagined material in the film than you might suspect.
In an alternate universe, Jefferson Davis became president, the Confederates won the Civil War, Abraham Lincoln was not shot and killed but becomes an escapee in blackface and dies in disgrace in Canada (not before recording his last words in 1905 -- a little anachronistic since sound in films did not occur until the 1920s), and slavery is alive and well and becoming one with technology. Subversive enough? You'll have to watch this mockumentary to believe it. Nothing is sacred here, and it works so well because it looks as if these events truly took place. It could be a documentary shown on A & E from its meticulous attention to detail to make it look authentic, and its segues into "commercial breaks" are fantastic -- you laugh, but you cringe. And this is exactly what director Kevin Willmott and producer Spike Lee want you to feel.
IMDB
http://www.imdb.com/title/tt0389828/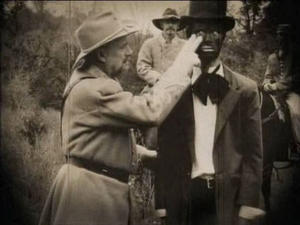 Hotfile Links

C.S.A.: The Confederate States of America Dvdrip
http://hotfile.com/dl/59781165/de6ca5d/CSAThConfStatofAm04.part1.rar.html
http://hotfile.com/dl/59783567/2fa3357/CSAThConfStatofAm04.part2.rar.html
http://hotfile.com/dl/59790812/91a1644/CSAThConfStatofAm04.part3.rar.html
http://hotfile.com/dl/59798110/d116517/CSAThConfStatofAm04Subs.rar.html