Sex and Fury (1973)


Genre:
Action | Crime | Thriller
Country:
Japan |
Director:
Norifumi Suzuki
Language:
Japanese |
Subtitles:
English (.srt)
Aspect ratio:
Widescreen 2.35 : 1 |
Length:
88mn
Dvdrip Avc MKV - 976x416 - 1,53gb
Plot
Reiko Ike stars as Ocho, a gambler and pickpocket in Meiji Era Tokyo. After sheltering a fleeing anarchist, Ocho runs into the three gangsters responsible for her father's murder, and runs afoul of various yakuza who want her dead. A European spy, played by Christina Lindberg, arrives on the scene and complicates matters.


IMDB
http://www.imdb.com/title/tt0070085/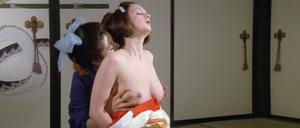 http://hotfile.com/dl/50402500/8d2561a/sexfur.part01.rar.html
http://hotfile.com/dl/50402809/d0377a4/sexfur.part02.rar.html
http://hotfile.com/dl/50403136/49aa432/sexfur.part03.rar.html
http://hotfile.com/dl/50403494/fbc6cc1/sexfur.part04.rar.html
http://hotfile.com/dl/50403793/6c18ce6/sexfur.part05.rar.html
http://hotfile.com/dl/50404129/5e7c12d/sexfur.part06.rar.html
http://hotfile.com/dl/50404372/23b76f0/sexfur.part07.rar.html
http://hotfile.com/dl/50404765/f5ba87f/sexfur.part08.rar.html
http://hotfile.com/dl/50404992/2dddc38/sexfur.part09.rar.html
http://hotfile.com/dl/50405470/89b74cf/sexfur.part10.rar.html
http://hotfile.com/dl/50405642/b516ba1/sexfur.part11.rar.html
http://hotfile.com/dl/50406079/e0bdc1e/sexfur.part12.rar.html
http://hotfile.com/dl/50406317/cc22ad1/sexfur.part13.rar.html
http://hotfile.com/dl/50406902/6576108/sexfur.part14.rar.html
http://hotfile.com/dl/50407175/552ca2e/sexfur.part15.rar.html
http://hotfile.com/dl/50407772/482994f/sexfur.part16.rar.html