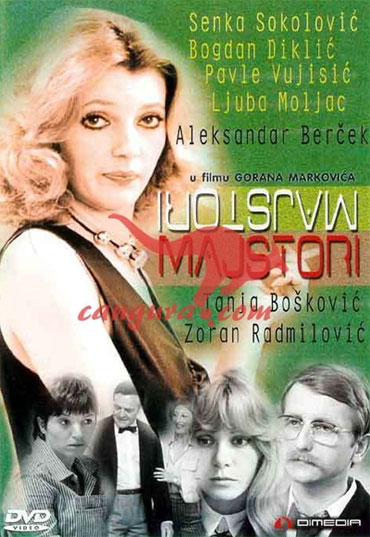 DVD Rip / 700 Mb / 1hr29 / 576x432
Director: Goran Marković
Writers: Goran Marković & Miroslav Simić
Cast: Semka Sokolović-Bertok, Bogdan Diklić, Snežana Nikšić, Predrag Laković, Olivera Marković, Zoran Radmilović, Miodrag Andrić, Mića Tomić, Tanja Bošković, Pavle Vuisić, Aleksandar Berček
Release date: 20.11.1980.
In
Serbo-croatian
/ English srt
Genre: Comedy
Country: Yugoslavia
Plot is set in elementary school with great reputation, where the teaching staff prepare party for the retirement of their cleaning woman, which is another opportunity for drinking and eating on the state expenses, of course. On the same day, in school comes young inspector who needs to check delation of pretty English teacher, who sued director's deputy for sexual blackmail.
Movie depicts mentality of Balkan people, especially their behavior on the working places but also among themselves. There is no leading role in this movie, characters are numerous and different and we see their good sides and their flaws, presenting Serbian society (very similar to the "Who's that singing over there?", the best Yugoslav movie of all-time). Acting is for 10, and probably the funniest was that of Zoran Radmilović (draftmanship teacher).
Code
http://www.imdb.com/title/tt0081104/




Code

http://rapidshare.com/files/284782222/Majstori__majstori.part1.rar
http://rapidshare.com/files/284896770/Majstori__majstori.part2.rar
http://rapidshare.com/files/284803430/Majstori__majstori.part3.rar
http://rapidshare.com/files/284821185/Majstori__majstori.part4.rar
http://rapidshare.com/files/284841190/Majstori__majstori.part5.rar
http://rapidshare.com/files/284860932/Majstori__majstori.part6.rar
http://rapidshare.com/files/284878292/Majstori__majstori.part7.rar
English subs:http://rs.titlovi.com/prevodi/majstori--majstori-aka-all-that-jack-s-103333/


password: slatkocose.org