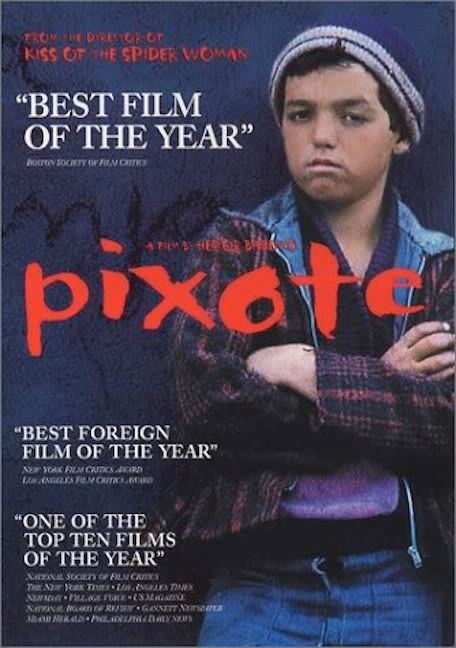 If you liked "City Of God", check out the original favela drama. A classic.
From Wikipedia:
After a police round up of street children Pixote is sent to a juvenile reformatory. The prison is a hellish school where Pixote uses glue sniffing as a means of emotional escape from the constant threats of abuse and rape.
It soon becomes clear that the young criminals are only pawns in the criminal, sadistic games of the prison guards and their commander.
When a boy dies of physical abuse by the guards, they frame the lover of the transgendered effeminate boy known as Lilica (Jorge Julião), for the murder. This lover then conveniently also dies, with some help from the guards.
Soon after, Pixote, Lilica and her new lover Dito (Gilberto Moura) find an opportunity to flee from the prison. First they stay at the apartment of Cristal (Tony Tornado), a former lover of Lilica, but when tensions arise they go to Rio for a cocaine drug deal; there, however, they get duped by a showgirl.
After some time bumming around the city, Pixote and his friends go to a club for another drug deal. While there, Pixote finds the showgirl that took their drugs and stabs her.
They become pimps for the prostitute Sueli who is definitely past her prime and is possibly ill from a botched abortion. The group conspires to rob her johns, but when Lilica's lover Dito falls for Sueli, Lillica leaves. The robbery scheme fails when an American john fights back (because he apparently does not understand Portuguese) so they have to shoot him. In the ensuing fight, Pixote accidentally shoots and kills Dito as well.
Pixote tries to gain comfort from Sueli, treating her as a mother figure, but she rejects him. He leaves and is seen walking down a railway line, gun in hand, away from the camera, his figure disappearing in the distance, out of the film's view.
From Roger Ebert:
"Pixote stands alone in Babenco's work, a rough, unblinking look at lives no human being should be required to lead. And the eyes of Fernando Ramos da Silva, his doomed young actor, regard us from the screen not in hurt, not in accusation, not in regret -- but simply in acceptance of a desolate daily reality."
IMDB

1981
Brazil
In Portuguese with Hardcoded English subs.
127 mins
MKV file; 707.4 MB
Single download: