Quote
The Machine Girl (2008)

Genre: Action | Comedy | Horror
Country: Japan | Director: Noboru Iguchi
Language:
English
| Subtitles: None
Aspect ratio: Widescreen 1.85:1 | Length: 97mn
Dvdrip Xvid Avi - 592x336 - 792Mb
Code
http://www.imdb.com/title/tt1050160/



Plot: Ami is a typical college girl. She's bright, friendly, popular and athletic, with nothing to set her apart from other girls her age other than the fact that she is an orphan, left to care for her younger brother after her father committed suicide after being falsely accused of murder. But while there is tragedy in their past, the siblings' future looks good, except for one thing. Ami's brother has racked up a considerable debt to another boy at school, and that boy just happens to be the heir to a clan of vicious ninja-yakuza. Ami's brother can't pay, violence breaks out and in the course of trying to avenge her brother, Ami is captured by the clan. They torture her and hack her arm right off. Ami escapes, barely alive, and is taken in by the owners of a machine shop who build her a customized, bullet-spewing arm. From that point, the quest for revenge is on in earnest.



If you only see ONE outrageously absurd and ridiculously over-the-top Asian splatter yarn this year - or even this lifetime, for that matter – you better make damn sure it's Noboru Iguchi's "The Machine Girl"!

This stupendously demented piece of Japanese "Revengeploitaton" features king-size portions of all the regular and crowd-pleasing ingredients, like crazed stereotypical characters (Yakuzas, Ninjas, schoolgirls in uniform, …) and simplistic story lines, but it particularly specializes in extreme Magna-esquire gore and kitschy comedy. Beautiful and multi-talented schoolgirl Ami lives alone with her nerdy brother Yu since their parents committed suicide for falsely being accused of homicide. Ami protects her brother where she can, but she doesn't know he and his friend Takashi are the main targets of youthful bullies with prominent Yakuza-parents. The boys get killed, but nobody wants to help Ami because of her notorious family history and her sole attempts to get revenge literally cost the poor girl an arm. She finally gets help from Takashi's mourning parents, who also provide Ami with a machine-gun prosthesis. "Machine Girl" offers a wide selection of decapitations, dismemberment, close-up gunfire, stabbings, split-open skulls, chainsaw murders, fried limbs, slit throats, electrocutions, impalement and Samurai swashbuckling. Seen all of that before in other schlocky splatter fodder already? Well, yeah … but what about flying guillotines and drill bras? Most of the running time, the screen is literally colored red with gallons of fake blood and removed intestines, but the tone of the film continuously remains blackly comical and light-headed. The phenomenally berserk make-up effects, courtesy of Yoshihiro Nishimura, are often nauseating, but never truly offensive. "Machine Girl" definitely also stars a couple of ravishing and incredibly sexy Japanese actresses, like Ami, her partner in crime Miki and even the supremely bitchy Yakuza's wife. The battle sequences at the beginning and in the garage, as well as the entire final showdown of course, simply have to be seen to be believed. This outrageously grotesque movie is well-made, well-acted and directed and indescribably entertaining.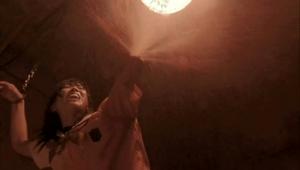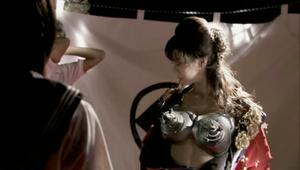 Hotfile

by jackburton69

Code

http://hotfile.com/dl/48303807/b525ce9/tmg.part1.rar.html
http://hotfile.com/dl/48303942/94a1f3e/tmg.part2.rar.html
http://hotfile.com/dl/48304044/2a29bec/tmg.part3.rar.html
http://hotfile.com/dl/48304099/ce0dd5b/tmg.part4.rar.html