Ta divna Splitska noc (A Wonderful Night in Split) (2004)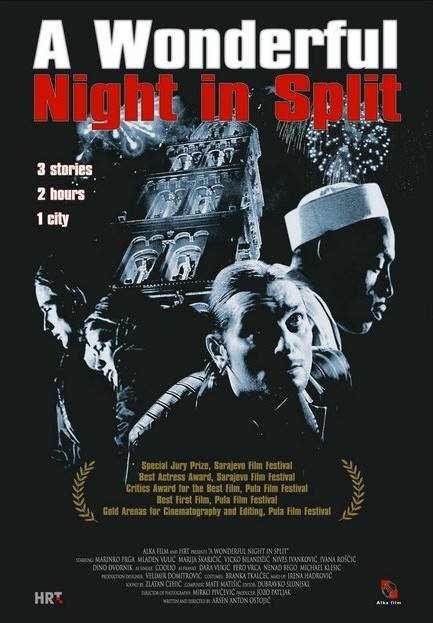 Director and Writer: Arsen A. Ostojic
DVDRip XviD AVI | 528x304 | Language:
Serbo-Croatian
| English | Subtitel: English | Color: Black and White | Size: 701 MB | Runtime: 96 min l Genre: Drama | Music | Country: Croatia
Cast:
Dino Dvornik ... Singer
Mladen Vulic... Nike
Coolio... Franky
Michael Klesic... Steve
Marija Skaricic... Maja
Nives Ivankovic... Marija
Marinko Prga... Blacky
Vicko Bilandzic... Luka
Ante Simun Majstorovic... Boy
Ivana Roscic... Andela
Pero Vrca... Sinor Bartut
Dara Vukic... Starica
Nikola Ivosevic... Inspector
Franko Strmotic... Redikul
Mile Vukasovic... Kauboj
The drug trade in a depressed Croatian burgh provides a through-line for this episodic drama, which screened at the 2004 Sarajevo Film Festival. In each of the three stories set in the coastal town of Split, children and young adults are caught up in dealing, using or trying to avoid drugs; the rapper Coolio appears as a sailor trading smack for the services of an addicted prostitute.
IMDb
Code
http://www.imdb.com/title/tt0420233/
Code
http://rapidshare.com/files/393234035/ta.divna.splitska.noc.04.part1.rar
http://rapidshare.com/files/393251598/ta.divna.splitska.noc.04.part2.rar
http://rapidshare.com/files/393234212/ta.divna.splitska.noc.04.part3.rar
http://rapidshare.com/files/393247887/ta.divna.splitska.noc.04.part4.rar
http://rapidshare.com/files/393251562/ta.divna.splitska.noc.04.part5.rar
http://rapidshare.com/files/393271637/ta.divna.splitska.noc.04.part6.rar
http://rapidshare.com/files/393271209/ta.divna.splitska.noc.04.part7.rar
http://rapidshare.com/files/393272736/ta.divna.splitska.noc.04.part8.rar
No Pass